This what I wrote as a pastoral letter for our church this week.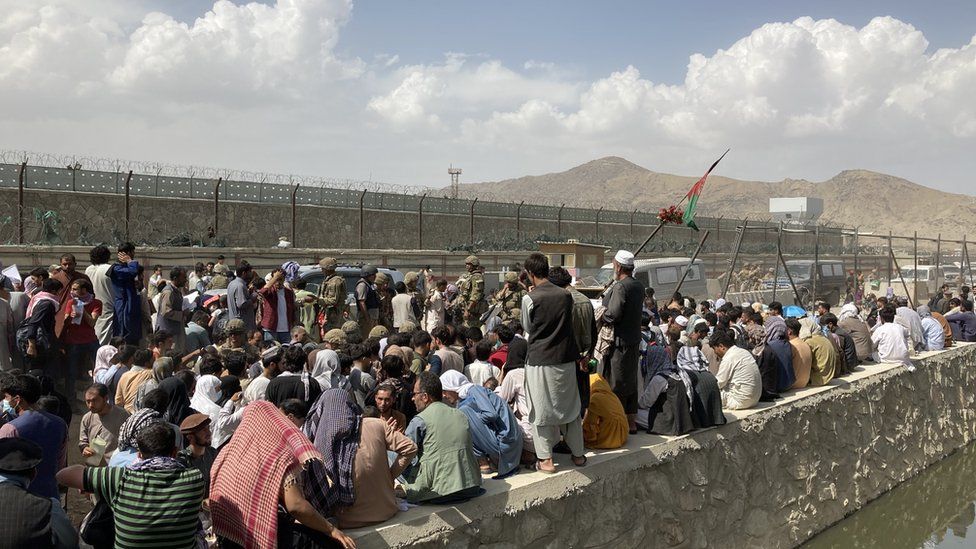 Afghanistan, Haiti, and Yemen. These are just three places where human crisis and suffering are on a scale that makes us feel helpless. Effective aid will require international co-operation, and long term commitments towards peace-making, humanitarian aid and new partnerships to empower people to build a better future.
We are still struggling with the uncertainties of the pandemic even at the personal and local level. It's very difficult for ordinary folk like us to make any big difference to the huge problems our world currently faces. That's why it's important that we take time to read and consider information that comes to us from reliable sources such as BMS World Mission or Tear Fund. What seems to us to be a global problem beyond our help, becomes much more local, personal and immediate when we read and hear stories of families and individuals caught up in horrific circumstances they had no part in creating.
As Christians we believe in the dignity, value and significance of every single human being created in the image of God.
So when we see the bewildered faces of starving children in Yemen, in each one we see the face of one dearly beloved by God. And we pray, Lord have mercy
When we watch footage of rescuers scrabbling with bare hands in the rubble of what used to be a thriving town in Haiti, we realise that an earthquake on the other side of the world has reverberations that reach across humanity to our heart, if not the ground on which I stand. And we pray, Lord have mercy.
 The people of Afghanistan have borne so much over decades, and once again their country is a place of chaos, fear, anger division and fast disappearing hope. The political fallout will come, but leave aside the recriminations and blame games, and focus on the face of this frightened child, and that weeping woman, these young students whose futures have just evaporated, those older faces lined with suffering and eyes in which hope fades, again. And pray, Lord have mercy.
Whatever else the church of Jesus Christ is for, it is for what God is for. As the Body of Christ we are called to embody the reconciling love of Christ. We are agents of God's purpose of making right. We are builders of peace. In our faith and worship we stand beneath the cross of Jesus the place of mercy and reconciliation. In God-given hope we stand at the empty tomb as witnesses to the good news of new hope. As proclaimers of the outbreak of new life in Christ, we stand as believers in the defeat of death by a Love stronger than sin and death and hell.
But what does that mean, practically? What can we actually do that will make much difference? The obvious answer is that we pray, and we will do that. Below is a prayer for Afghanistan. Make it one of the ways we affirm and focus our concern. This coming week we will pray this prayer, before we ever get to praying for ourselves and our own daily and even pressing concerns. To love our neighbours as ourselves should at least mean we will pray for them with the same persistence, faith and intention as when we pray for ourselves.
We can give money. There are various agencies now predicting a humanitarian crisis in Afghanistan. Tear Fund is a recognised evangelical mission agency who have a widely recognised track record in using emergency relief funds strategically and effectively. https://www.tearfund.org/campaigns/afghanistan-emergency-appeal
When many people contribute what they can, that collection of modest merciful intentions becomes a funding resource that can save lives. The apostle Paul spent the last year or two of his life taking up a collection to take to Jerusalem for famine relief. From the letter he wrote to Corinth come words that raise money from finance to faithfulness. "God loves a cheerful giver!" Giving money to help save the lives of people we have never met is a deeply Christ-like thing to do. It is generous, loving, not looking for a return other than the wellbeing and valuing of others.
We can train ourselves in compassion. What do you do with those images on TV of desperate people falling from planes, of traumatised children and shell-shocked and shattered communities? Switching off from others' suffering by switching channels or scrolling past isn't really an option for followers of Jesus the suffering servant who died for the very sins that give rise to so much human anguish. Prayer for those who suffer is a refusal to scroll down past what makes us uncomfortable. Below is the prayer I mentioned earlier. Use it in coming days as the news unfolds, speaking to the God who was in Christ reconciling the world to himself and trusting the one who was rich but for our sakes became poor.
PRAYER FOR A TROUBLED WORLD. (from Tear Fund)
God of love and light, the world feels dark today. Tragedy looms large. The air is heavy with grief. The tears of the people of Afghanistan.
The tears of the people of Haiti; the tears of the people of so many places – it is a tide of anguish. A tide of loss.
Yet we will not despair, for we know that you are God. We know there is no darkness so great that light cannot overcome it. We know that love never fails.
Let light pour out upon the land – upon Afghanistan, upon Haiti, upon all the places that weigh upon our hearts. Let their cries for deliverance be heard.