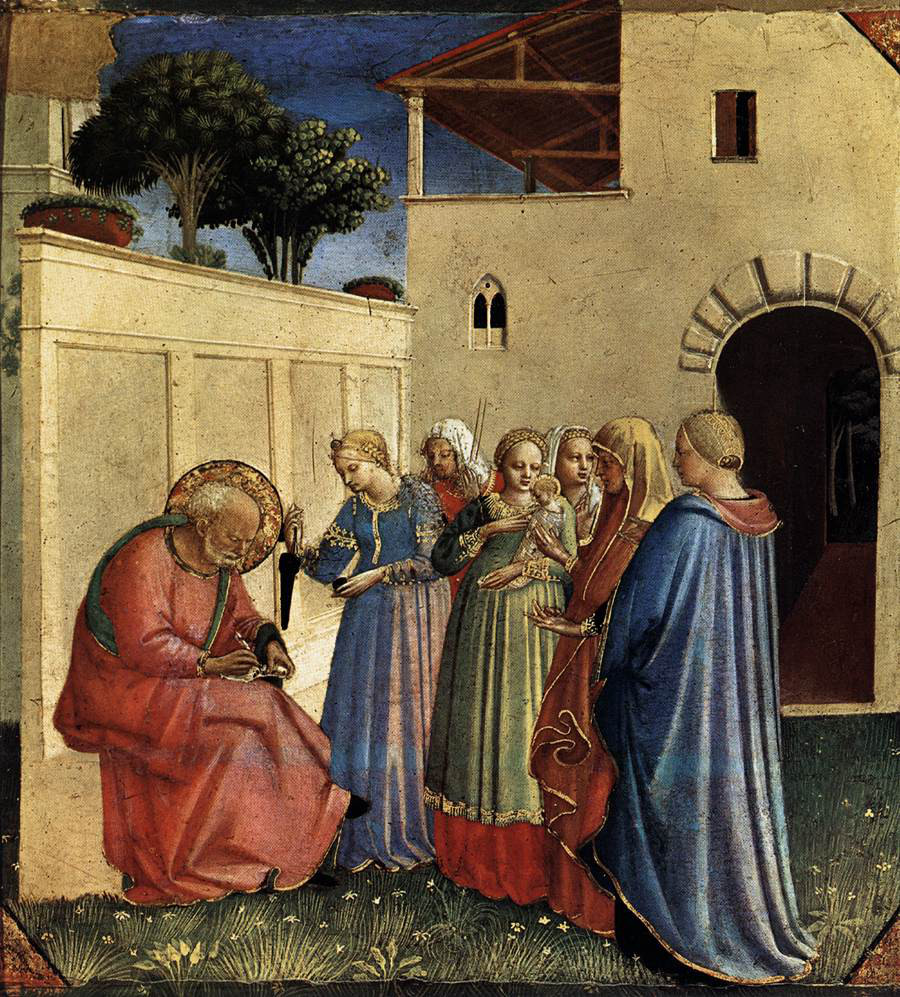 Fra Angelico, Naming of John the Baptist.
Advent is when, in an impatient world, we wait patiently. The connection between waiting, patience and hope is strong, and if we can wait in patient hope then perhaps we are beginning to understand what it means to live by faith. Because to wait patiently and hopefully is an act of continuing trust.

In an impatient world we've become used to speed of delivery, everything from fast food to same day online pick up points. Saving time, filling time, using time, we've slipped into a mindset that thinks we can control time. Slow it down, speed it up, adapt it to our own purposes. The default secular worldview ignores, perhaps deliberately obscures our ultimate helplessness to control time. Indeed, the pace of our lives these days, our determination to compress as much energy, achievement, possession, entertainment, work and doing into every hour and day and week and year, is making us impatient with, well, with waiting. No wonder hope is all but obsolete, and the long view of the forward looking spirit seems hardly relevant in a world of the short term solution, selling its soul for immediacy.
Advent comes as a reminder to our time obsessed times, that time is passing. God is not the servant of our wants. The determined redemptive purposes of a love that is Eternal are not likely to be derailed by our impatience. "Time like an ever flowing stream , bears all its sons away; / They fly forgotten, like a dream dies at the opening day."
So as Advent begins, even if we do live in a frantic culture which idolises now and worships time saving efficiency; wait patiently; hope trustfully; look attentively; live faithfully. Pray with urgent slowness. Speak with considered kindness. Let longing be as the word says, long. Wonder cannot be rushed. Mystery takes time to unfold.
Year on year, each day of our lives, God comes with the slow deliberation of eternal purpose into the frantic filling of our days. If we can slow down, stop and wait long enough, the Advent of God brings life's renewing. The connection between our waiting, our patience and our hope is secured only by God's unbreakable promise. Advent is the time to offer once more the vulnerable but heart meant yes to that promise: "But to you that fear my name shall the Sun of righteousness arise with healing in his wings." And no. For all our attempts at control and speed, we can't make the sun rise on demand. In God's time. That's what Advent is. Learning to live in God's time.
Almighty God, give us grace that we may cast away the works of darkness, and put upon us the armour of light, now in the time of this mortal life in which thy Son Jesus Christ came to visit us in great humility; that in the last day, when he shall come again in his glorious majesty to judge both the quick and the dead, we may rise to the life immortal; through him who liveth and reigneth with thee and the Holy Ghost, one God, now and for ever. Amen. 

.